One Fish? Two Fish?
Uncategorized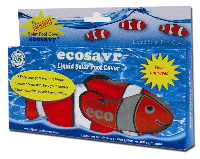 Ecosavr™ is a patented fish shaped application method for Heatsavr™, the original liquid solar pool cover. Basically, it is a transparent liquid that spreads across the surface water of your pool to reduce heat loss by lowering the rate of evaporation. Since pools lose up to 70% of their heat through evaporation, using Ecosavr™ can help you keep that heat in your pool – instead of evaporating into thin air!
1 Ecosavr™ will cover a 400 square foot pool (a pool with approximately 15,000 gallons of water) for about a month. If your pool is larger than that, you can use two Ecosavr™ Solar Fish.
One of the greatest things about liquid pool covers is that they can form themselves to any size or shape of swimming pool. Because of this unique quality, Ecosavr™ will be just as effective on an above-ground pool as it will be on an in-ground pool.
Just make sure you are using the right amount of product to cover the size of your pool, and you can't go wrong!
Here's a video that will explain how to use the Ecosavr™ fish:
Stop in any of the Clearwater Pools locations and ask about the little fish that will help heat your pool!