Shark Week Party
Summer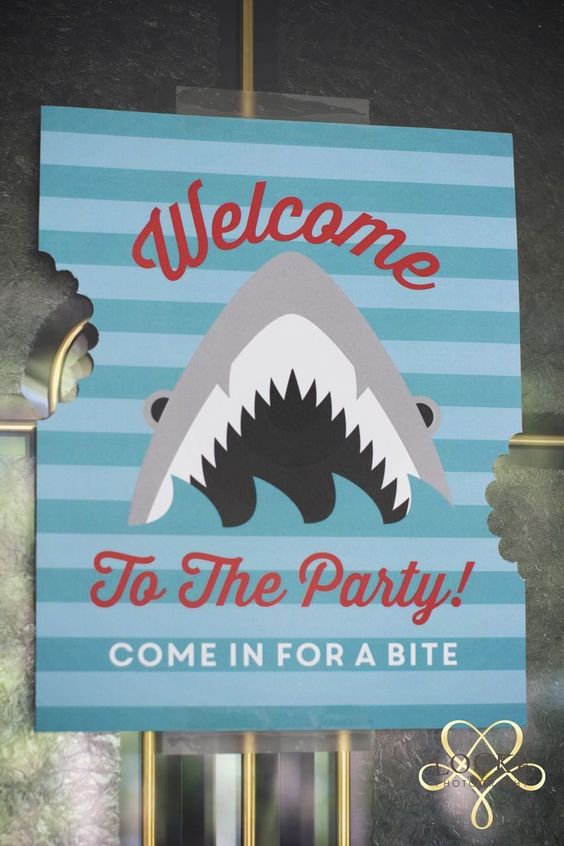 No excuses needed to have a party during Shark Week! Celebrate a birthday or just celebrate the 30th Anniversary of Shark Week!
Here are 30 fun Shark Party ideas:
1. Create a list of 30 shark facts
2. Dress like sharks and minnows for your party
3. Show the movie Jaws at night and have a dive in pool party to watch it
4. Pin the fin on the shark game!
5. A shark book collection should be on display for little minds to check out
6. Play shark music
7. Stream Shark Week programming
8. Buy lots of gummy sharks and use them in drinks and on cupcakes and cakes
9. Red kool-aid in the pool for blood
10. Have shark treats (see Pinterest board for ideas)
11. Cocktails and Mocktails with a shark theme (see Pinterest board)
12. Grill up some Mako Shark!
13. Serve Fish & Chips
14. Have a Shark Week Photo Booth
15. Decorate shark cookies (find shark cookie cutter)
16. Hang jelly fish lights from the ceiling!
17. Dress like a shark!
18. Create Shark Signage: Beware of Sharks! No Sharks in the Pool! Shark Infested Water!
19. Hand out shark teeth necklaces!
20. Have a flipper party–everyone wears flippers! We've got flippers in stock!
21. Play Shark Trivia!
22. Play Shark Jeopardy!
23. Watermelon carved like a shark!
24. Make ice cubes out of red punch and put a gummy shark in the ice cube squares
25. Decorate a fin contest!
26. Put lots of Landshark Beer on ice (and designate a driver)
27. Dive for sharks! Throw some plastic mini sharks in the pool!
28. Swedish Fish in dishes all around the pool!
29. Shark drawing contest!
30. Shark crafts!
We'll be back tomorrow with some Shark Week food ideas…