Staying Sun Safe (Part 1)
Uncategorized
Summer days in the pool can be great fun, but what about the sun? Do you regularly have sunscreen ready to apply your skin? Today we're going to highlight some of the latest sun and skin care products on the market. From sunblock to sunscreen and everything in between, let's learn about sun safety and UVA rays…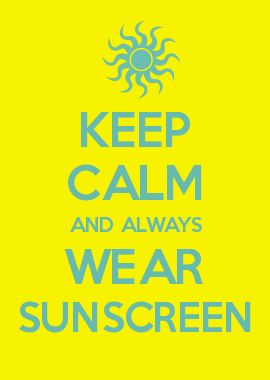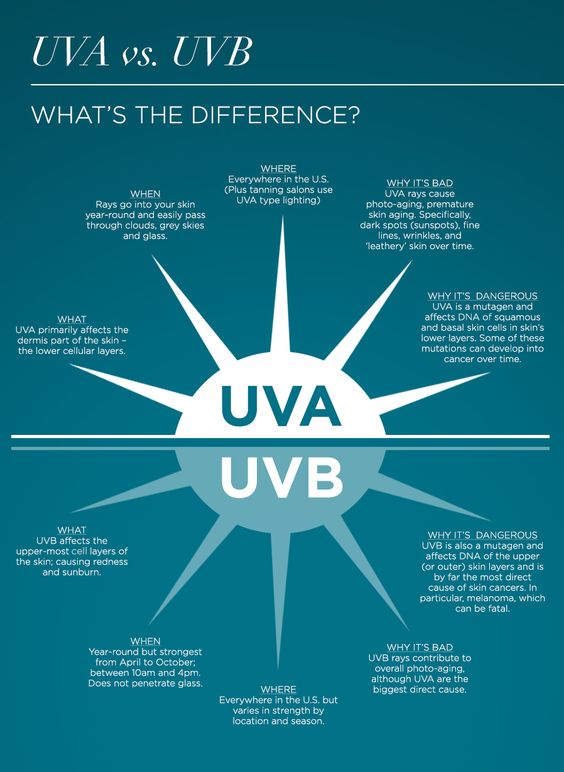 Are you familiar with these terms UVA and UVB? You should be! You need a sun protection product that tackles both the harmful rays of UVA and UVB. Both UVA and UVB is radiation from the sun. Yes, you read that right–radiation. These rays penetrate the earth's surface and are invisible to the naked eye. Today, let's take a look at UVA rays…
Basically, UVA rays are the sun rays that are there all the time, even when you don't think they are because it is cloudy. Have you heard that you can get sun burnt even on a cloudy day? Well, you can. That's the UVA factor you need to pay attention to every day of the year, not just in the summer. UVA rays penetrate deep into the thickest layer of your skin. This is the reason sun damage from UVA rays causes premature aging and skin damage. UVA rays are also the skin cancer enemy! Skin cancer is formed by UVA rays damaging your skin at the deepest level! UVA rays are even dangerous coming through car windows and the windows of your home! That is why many windows are now tinted to help protect you from the UVA rays. There are also sun protection screens that you can put on your car windows that aren't just for the baby in the backseat, but also the driver and front passenger windows.
Did you ever notice that the left side of your face and the left arm is more tan or has more sun damage than your right arm? That's because of UVA rays coming through the car window when you drive! Here's a set of car sun shades we found on Amazon that you might consider, especially if you spend a lot of time behind the wheel: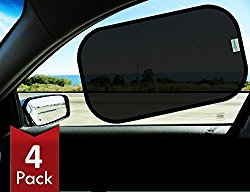 Consider keeping a sunscreen stick in your car so you can apply it on the go if you know you are going to be in the car for a long period of time and you don't own car window sun shades. Here is a good one we found on Amazon and it is currently cheaper than this same product in stores and since it is a Prime product, you get free shipping if you are a Prime Member: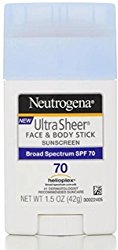 Since this is a solid stick formula, your hands won't get all messy applying it! Roll it on your arm and face as needed.
Unlike the feeling you get from exposure to UVB rays and the sunburn these rays give, UVA rays cause damage you can't even feel! That's why UVA rays are so damaging. It is easy to forget about them when you are indoors, in your car, or outside on a cloudy day. If you can't see the sun shining down on you it is easy to forget your sunscreen!
To protect yourself against UVA rays, go with a sunscreen that has an SPF of 30 or higher, is water resistant and is labeled with these words: UVA/UVB Broadspectrum.
Here are a few of the best sunscreens on the market according to the American Dermatology Association:
Zinc Oxide is a popular ingredient in sunscreen and sunblock. It is also an ingredient that is natural and safe as far as toxicity is concerned. There are many sunscreen ingredients that are widely considered to be toxic. To get the full list, this website is a great resource: https://www.ewg.org/sunscreen/report/the-trouble-with-sunscreen-chemicals/#.WyqGo6dKjIU
Here are some of the highest rated zinc oxide sunblocks on the market that you can easily order on Amazon since Clearwater is an Amazon Affiliate. As an Amazon Affiliate, we will be highlighting products on our website that we do not sell in any of our stores simply because our customers can get the products at a better price on Amazon. So, even though Amazon is not a company local to you like Clearwater, you can still support our small business and enjoy the convenience of Amazon Prime prices and free shipping. Not an Amazon Prime member? You should consider it!
So here are the zinc oxide sun protection products that are Clearwater Standouts because of the low toxicity of the ingredients (some are even certified organic). Just click on the image to get taken to the product on Amazon:
Next time we will highlight more information about UVB rays and what you can do to minimize exposure. Meanwhile, check out some of our Sun Safety pins on Pinterest: